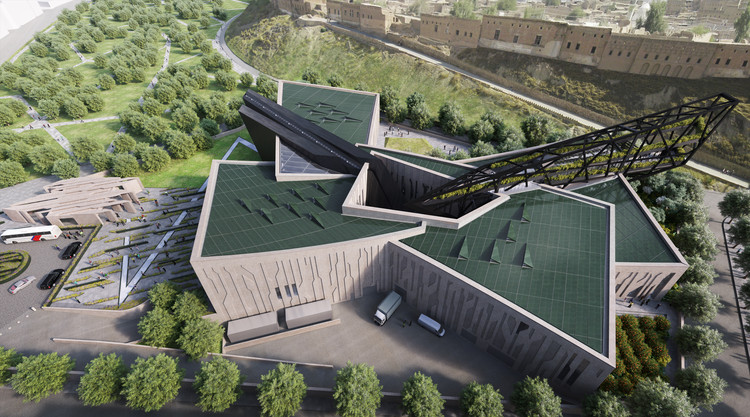 For this project I've been working on the developing the AV content for this proposed museum. This is a very exciting project for many many reasons, but from an editing perspective it's a whole challenge in story telling. There will hopefully be AV installations that won't adhere to conventional technical criteria… That's to say any image aspect ratio is posible, projections not just on flat surfaces but objects and textures, these could include a 360° immersive Newroz display. Plus i'm working with RWF World and Emmy award winning filmmaker Gwynne Roberts, whose built an extensive archive of material, 100s of 1000s of hours!
Here's some more information about the project from Studio Daniel Libeskind, the architect of the building.
The Kurdistan Museum will be the first major institution to present the Kurds' national heritage to the world.
In collaboration with the Kurdistan Regional Government (the KRG) and client representative RWF World, the team has embarked on a visionary project to share the story of the Kurdish people and inspire an open dialogue for future generations within Kurdistan.
"The museum aims to convey the spirit of the Kurdish people, their rich culture and the future of Kurdistan," said architect Daniel Libeskind. "The design had to navigate between two extreme emotions: sadness and tragedy, through the weight of history, and of joy and hope, as the nation looks to the future."
Situated at the base of the ancient Citadel, in the center of Erbil, Iraq, the 150,000 square-foot museum will feature exhibition spaces for both permanent and temporary exhibitions, a lecture theatre, state-of-the-art multimedia educational resources, an extensive digital archive of Kurdish historical assets, as well as community center and landscaped outdoor spaces for public use.
The form of the museum is created by four interlocking geometric volumes that represent the Kurdish regions: Turkey, Syria, Iran, and Iraq. The volumes are intersected by a line that is broken into two angular fragments, representing the past and future of Kurdistan. The two fragments create an emotive duality: a heavy and opaque mass, the Anfal Line, which symbolizes the genocide under Saddam Hussein; and the Liberty Line, a lattice structure filled with greenery that ascends towards the sky and culminates with an eternal flame – a powerful symbol in Kurdish culture.
At the junction between the Anfal and Liberty Lines is an open-air courtyard conceived as a tranquil and meditative space at the heart of the museum. The courtyard references those found in the Citadel and throughout the ancient, urban neighborhoods of Erbil. There is a water feature that extends from the landscape through the museum, bringing to mind the rivers and fertile valleys of Kurdistan. The landscape offers performance spaces, café seating, and picnic grounds where people can gather.